Tooling analysis
This is where the quality of the components begins
Casting allowance control, tool analysis, tool breakage, tool repair, creation of tool duplicates.
We specialize in a wide range of tooling analysis scopes. Thanks to the optical sensors used from ZEISS, we can cover a wide range of applications. The highly flexible sensors also allow large tools with a total weight of up to 50 tons to be measured quickly and with high precision. We support you in all metrological requirements in this complex of topics. Our goal is always to save you time and money.
Service processes in tool making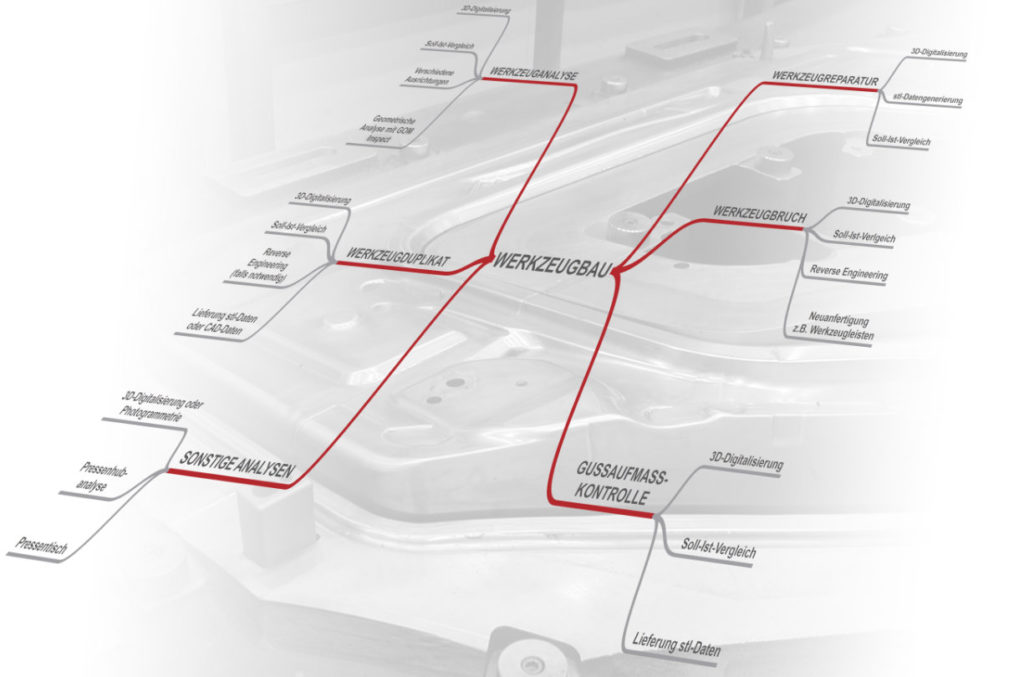 Fields of application of optical metrology in tool making
Casting allowance control
Based on digitized 3D models of casting blanks, you get a new precision in milling program creation. What used to have to be checked manually in time-consuming "free-running programs" can now be taken into account in advance during the creation of the milling program by means of our supplied data.
This results in the following advantages for you:
uncontrolled "driving" of the full mold casting; feeder / riser can be considered
Avoidance of cutter head collisions during milling
Quality assurance during cast delivery
Tool analysis
In the process tool analysis several topics are investigated by us.
Geometry analysis after assembly
Wear analysis
Acquisition of actual status and archiving of data
These process results bring you the following benefits:
secured actual geometry status before first run-in
Current data status of the tool
Backup solution in case of tool breakage
fast and inexpensive possibility for trouble shooting
Tool breakage
In case of tool breakage, it is essential to have precise 3D data for the remanufacture of the affected tool parts. After the temporary repair of the areas, our measurement process starts. Digitalization and tool analysis (nominal / actual comparison) are the first steps, followed by the creation of the CAD model of the affected areas by means of reverse engineering. Based on this high-precision data model, a new part can be milled directly. The installation and use of the newly milled tool parts can be carried out without time-consuming rework.
Tool repair
Our range of services in 3D measurement technology can be used in a highly flexible and versatile manner for mold repairs. The relevant areas are digitized before and after buildup welding. On the one hand, these data are used for the comparison "pre-repair to post-repair" and for data archiving, on the other hand, the recorded data form the basis for the buildup welding.
Creation of tool duplicate
We can also support you in the production of tool duplicates.
We digitize the entire surface geometry at your site or at our place.
These data can be output in different data formats.
The new tools are milled on the basis of this data.
The tool duplicates created in this way have the following advantages:
Cost effective production
high mold surface fidelity with respect to the tool to be duplicated
Low number of Q-loops
Reduction of cost-intensive tooling
Quick release of the new tool
Laser hardening
Heavily stressed metal parts and machine components are specifically influenced by the laser hardening process to prevent wear, abrasion and deformation of the components. Laser-based surface hardening itself is one of the fastest processes in laser material processing to produce permanently durable metal components that are also hardened with low distortion. In theory, this involves path programming on known surfaces (CAD data). Since laser hardening requires accuracies of a few tenths of a millimeter, a precisely known actual geometry is a basic requirement. This is where the sensor technology from ZEISS comes into play again. With the ATOS 5 or ATOS 5X, tool surfaces can be measured with high precision and over a large area and serve as a basis for the path programming of the laser hardening system.
Other analyses in toolmaking
Of course, we also carry out all other geometry analyses in tool making.
This starts with the press analysis and continues with the analysis of the stroke unit up to special analyses in case of unclear defect patterns of the molded components.
Contact us, we support you!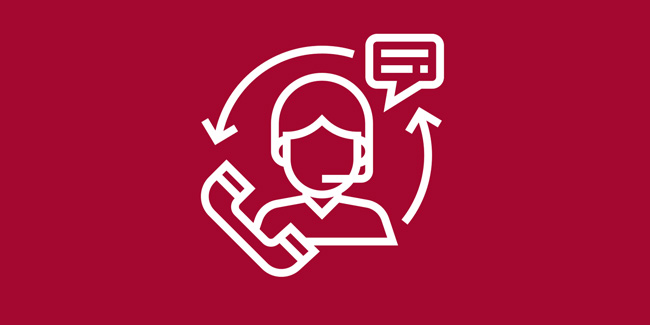 Questions?
We analyse.
You profit.
How can we support you? Contact us and we will get back to you as soon as possible.
CONTACT
Sorry, no posts matched your criteria.